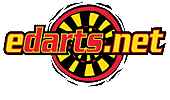 All Darts, Shafts, & Flights
come in SETS of THREE



1.866.55.DARTS
fax: 1.888.676.6957

563.243.2263
1.800.726.7085





Your Privacy is important to
us. We do not disclose any
personal information and/or
email addresses to anyone.
Cookies Policy
Big River Darts
Big River Things, Inc
PO Box 553
119 Main Ave
Clinton, IA 52733
563.243.2263
fax: 563.243.3858


Where We are...
...a Closer Look


All Sales Are Final...within Reason, and/or BRD Bills, the IndustryStandard, 15% ReStocking Fee for All Non-Defective returned merchandise.
No Returns without Return Authorization.
Prices Subject to Change
Flights & Shafts on all
dart Sets may VARY!

WARNING
Darts are Not Toys!

California Lead Warning: California health & safety code § 25249.6 and proposition 65 are laws that were passed in the state of California, in an effort to provide a safer environment. Lead is found on the list. All darts made from brass have a 3% lead content. Click here for more information.



SOFT-TIP DART POINTS

---

Made in Japan - Bombshell-Shaped
STRONG POINTS!
1-1/8" Long- Total Length (15/16" from Barrel)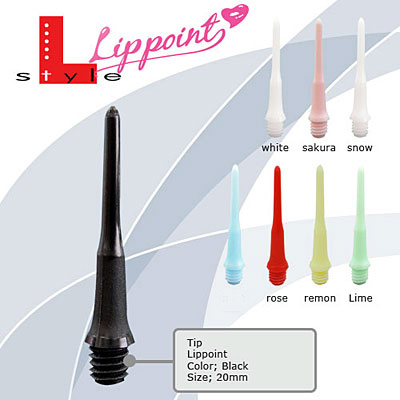 50 ct- $5.00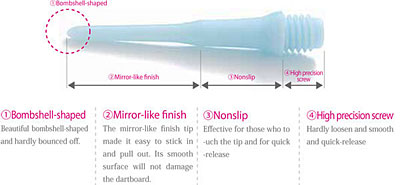 LIPPOINT features
1. Bombshell-shaped - Beautiful bombshell-shaped and hardly bounced off.
2. Nonslip - Effective for those who touch the tip and for quick-release.
3. Mirror-like finish - The mirror-like finish tip made it eaay to stick in and pull out. Its smooth surface will not damage the dartboard.
4. High percision screw - Hardly loosen and smooth and quick-release.
The dart's strength prevents the first throw from hanging onto the dartboard and getting in the way of the second throw. A mirror-like finished tip is made so that it is gentle on the dartboard and not easily bounced off, but easy to pull out.
---

Made in Japan - Bombshell-Shaped
SHORT LIP


1-1/16" Long- Total Length (7/8" from Barrel)

Black - White - Orange - Snow - Hot Pink - Violet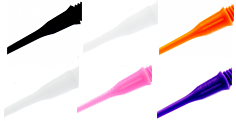 50 ct- $5.00
---


"No.5" is a Metric 1/8" unit of measure.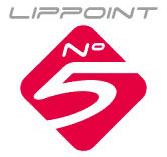 ---


No.5 LipPoints

1-1/8" Total Length : Black, White, or Red
Manufactured in Japan.
Thread Diameter of No.5 is about 1.6mm thinner compared with 2BA tips. The structure of No5 barrels will be close to SLEEK... making the center of gravity more to the Front of the dart. The structure of No.5 barrels will raise the speed of darts with a straighter orbit compared to 2BA and also make them lighter than identical 2ba barrels.
Since using these tips will slimline the shape of the tip, the connection portion of the barrel become smooth which reduces "bounce outs" caused by the close-grouping.
Will NOT Fit in 2ba Darts!! Will NOT Fit in 99.9% of ANY Darts
50 ct: $6.50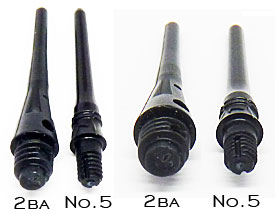 Outer Diameter of Threads: 2ba- 3/16" : No.5- 1/8"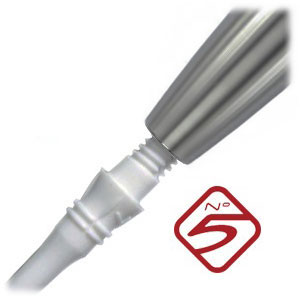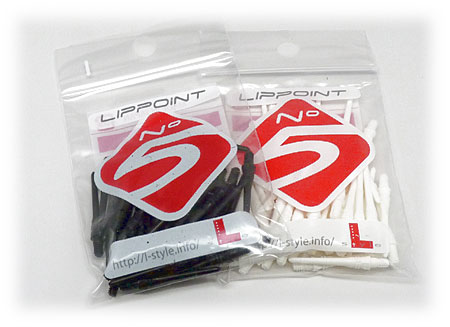 ---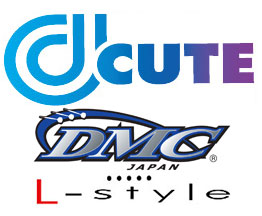 Acute LipPoints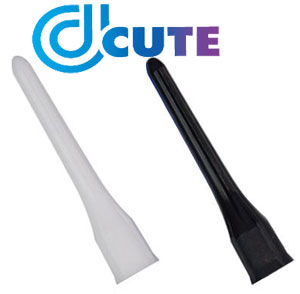 22.4mm Length : Black or White
Manufactured in Japan.
Works with barrels that have acute-type "male" threads.
L-Style's Acute Lip was designed in collaboration with DMC to offer the same durability and performance as Lippoint; with Acute-style barrels.
With a mirror-like finish, many color variations, it's the perfect choice for acute-style players.
1) Ultra-high durability
2) Fits Acute-style male-threaded barrels
3) High-precision screw
Will NOT Fit in Any Darts Except "Acute" or "M3"!!
50 ct: $6.50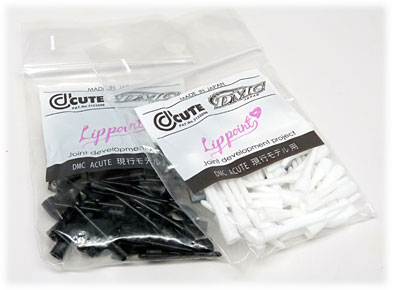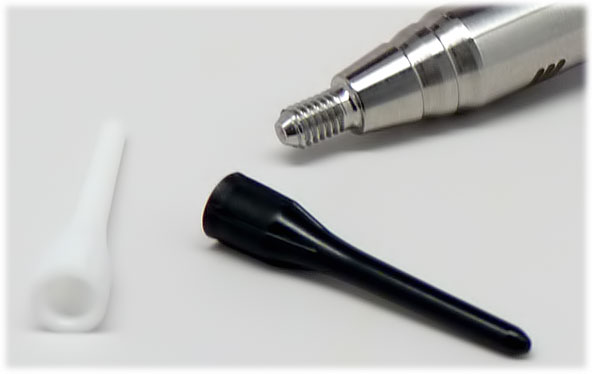 ---

SUPER LIGHTWEIGHT


$12.00/box of TWO SETS (6 Points)
Hard Lip Point: an Exciting development from L-Style Japan

NOT for use with a soft tip board.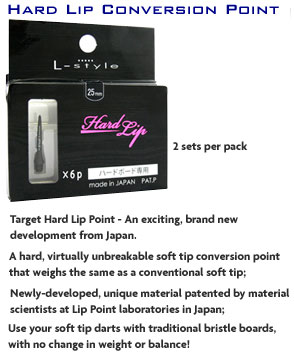 ---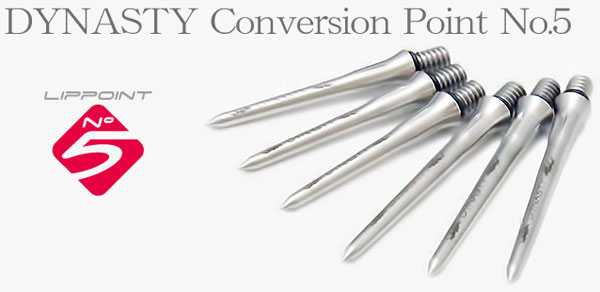 Conversion Points for No. 5 (EXTRA SMALL) Threads
Will NOT Fit 2ba Darts!!!!!!

No.5 Conversion Points by Dynasty
Come in 25mm or 30mm : Silver or Black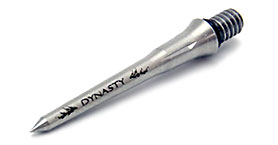 Silver - 25mm - No. 5 Thread
$13.50/set
---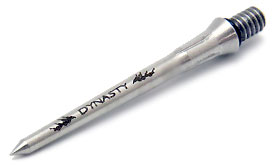 Silver - 30mm - No. 5 Thread
$13.50/set
---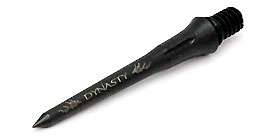 Black - 25mm - No. 5 Thread
$13.50/set
---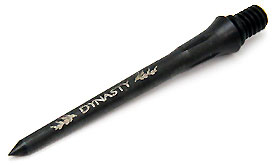 Black - 30mm - No. 5 Thread
$13.50/set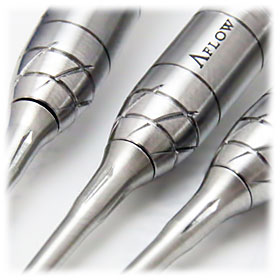 ___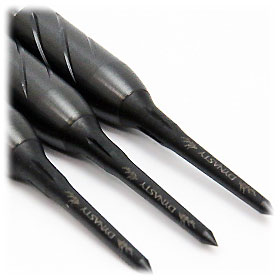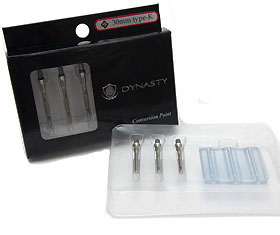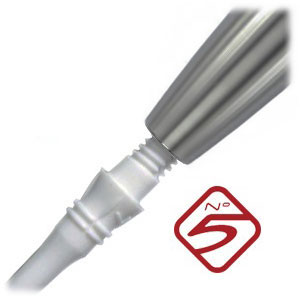 866.55.DARTS