Soft Tip Purist® Tungsten
$37.99
Available for the first time, the precise specification of barrels used by Phil Taylor. Supplied as barrels only in a metallic Micro case, Phil Taylor Purist feature additional grooves to the back of the barrels for extra grip.
Please note that the extra grooves mean that these barrels do not carry Phil's signature, available on Phil's Golden Unicorn and World Champion series darts.
Phil Taylor Purist darts are nominal 20g. All up weight will depend upon player configuration of flight and shaft.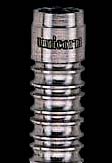 Features:
Barrels only
90% Tungsten Nickel Alloy
Engraved Unicorn hallmark of quality
Deluxe metallic Micro case
20 Grams - Barrels Only