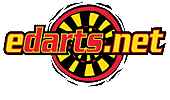 All Darts, Shafts, & Flights
come in SETS of THREE



1.866.55.DARTS
fax: 1.888.676.6957

563.243.2263
1.800.726.7085





Your Privacy is important to
us. We do not disclose any
personal information and/or
email addresses to anyone.
Cookies Policy
Big River Darts
Big River Things, Inc
PO Box 553
119 Main Ave
Clinton, IA 52733
563.243.2263
fax: 563.243.3858


Where We are...
...a Closer Look


All Sales Are Final...within Reason, and/or BRD Bills, the IndustryStandard, 15% ReStocking Fee for All Non-Defective returned merchandise.
No Returns without Return Authorization.
Prices Subject to Change
Flights & Shafts on all
dart Sets may VARY!

WARNING
Darts are Not Toys!

California Lead Warning: California health & safety code § 25249.6 and proposition 65 are laws that were passed in the state of California, in an effort to provide a safer environment. Lead is found on the list. All darts made from brass have a 3% lead content. Click here for more information.


---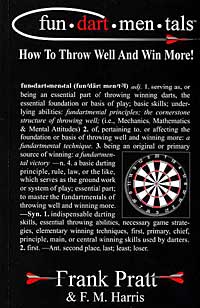 Fun-dart-men-tals: by Frank Pratt and F.M. Harris.
An instructional resource that no serious darter should be without. Includes mastering the mechanics, mathematics, and mental attitudes of throwing well and winning more. Fundartmentals is Powerful real world advice written for darters –by darters.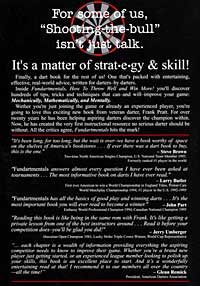 "Recommendation: This is simple, BUY IT!! The bottom line is that this book was written by a dart thrower that loves the game, for dart throwers that want to get better. It's the old feeling of "Hey, I've been in that situation before and know what he's talking about" that makes you want to read more. It doesn't matter if you've only been throwing for ten days or, like me, you've been throwing darts for over ten years, you will learn something from this book."
-CrowsDart.com review
Fun:Dart:Men:Tals - $16.95
---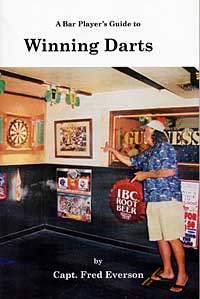 Click to enlarge
Capt. Fred Everson, that beer drinking dart throwing scribe from Ruskin, Florida has written a book titled "A Bar Player's Guide to Winning Darts." It's a book aimed at every dart player who wants to improve his game. The book is geared to steel tip play on the English bristle board, but much of the information in Winning Darts can be applied to any dart game. A Bar Player's Guide to Winning Darts is a personal manual of form, technique and strategy for all dart players who love this friendly pub game.
The two chapters dealing with Cricket are worth the price of the book.
Capt. Fred writes in clear concise style and tells you how to go about keeping your opponent off balance so you can beat him to the bull. If you share the Captain's irreverent love of smoke-filled dart rooms and cold beer, this book is for you.
The Captain shares his thoughts on form, strategy, tactics and practice in the 123 page illustrated book -- written in an easy to read style, and printed in large type.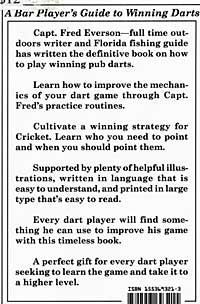 Click to enlarge
Bar Player's Guide to Winning Darts
$15.95
---


1.866.55.DARTS